Our Agile HR Workshops
We offer a series of impactful and result-oriented workshops and certification courses to empower Agile HR contributors and enhance their expertise.
Agile HR Workshops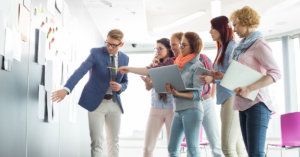 Our workshops are designed for HR teams at various stages in their Agile HR transformation. All our workshops are customizable to various degrees and are conducted in an iterative, agile way.
We offer a range of different workshops and we can help you find the right fit for you.
Here are some of our most popular workshops:
Strategic Retrospective
Value Stream Analysis
Executive Workshop
Problem Solving Workshop
HR Hackathons
Ready to go or can't find the one you are looking for? Contact us.