Agile HR @ Scrum Alliance Executive Forum 2016
Version
Download

53

File Size

709.83 KB

File Count

1

Create Date

October 18, 2016

Last Updated

April 22, 2023
Agile HR @ Scrum Alliance Executive Forum 2016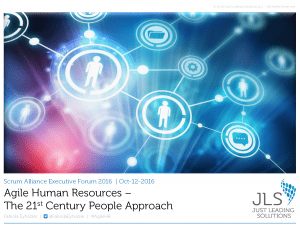 Inspired, empowered, and engaged people are the real key to success in the digital age. Thriving organizations empower HR to give them a competitive edge.
Companies of all sizes and industries are under constant pressure and their competitiveness depends on their capacity to create and innovate. That makes talented, knowledgeable, and engaged employees the key to success. Agile enterprises invest in their people and empower People Operations (Human Resources) to shape and energize a winning workforce.
Scrum Alliance Executive Forum | Minnesota, Oct-12-2016
About Fabiola Eyholzer
Fabiola Eyholzer (SPC, CSPO) is an expert and thought leader in Lean | Agile People Operations – the contemporary HR approach for the age of disruption. Fabiola is a seasoned Management Consultant and key players in various industries seek her expertise in Business Agility, Human Resources, Compensation & Performance Management, Operations & Processes, and Strategy.