Embed Learning and Development (#4 Reset Performance Mgmt.)
Companies must constantly evolve to meet new challenges and opportunities. Learning and development is a key part of the equation, not only on a personal level but also on an enterprise level. You must provide the time and space for people to inspect and adapt in order to create a learning culture that is supported by work practices and daily routines
This article is part of the series "How Lean | Agile Enterprises Push the Reset Button on Performance Management"
#4: Embed individual and organizational learning and development into your workflow
Companies must constantly evolve to meet new challenges and opportunities. And it becomes even more important when you consider today's need for creativity and speed. We can no longer have the luxury of long-life cycles – neither for our products/services nor for our knowledge. Instead, we are required to innovate and grow on the fly. Continuous learning and relentless improvement are key elements to this equation.
Unfortunately, we are often so busy and preoccupied with our daily tasks that we fail to set aside time to acquire specific knowledge or to even think about what abilities we would like to develop. On top of that, we don't get enough advice and input from the people around us. All of which limits our development potential.
These constraints occur when we rely on Performance Management to set the cornerstone for feedback and development. Current practices do indeed provide us with review sessions – albeit infrequent. They give employees and managers an official time and place for comments and coaching that (should) translate into actions. But that is usually where it stops. The outcomes are limited because they are highly dependent on the ability to reflect and act upon the feedback.
Performance reviews don't maximize learning and development potential
Reviews are intended to cover two parts: 1) evaluate results and 2) identify opportunities for learning and development. Most organizations excel at the former part – i.e. calculating performance ratings right down to the last digit. Yet they are lacking when it comes to the latter part – i.e. their capacity to boost individual and organizational development and growth.
You might argue that your review sheets include a development plan. But chances are they only cover mandatory annual training course – learning sessions that are a one-time episode rather than a continuous venture. In an Agile world, this is certainly too little, too late and certainly not enough to endorse your effort for persistent improvement.
Creating a winning Learning Culture is a long-term commitment
After all, an Agile enterprise cannot stand still. It has to be a progressive enterprise where learning, innovation, knowledge sharing, and collaborative decision-making is routine and deeply embedded in the corporate DNA.
Therefore, learning initiatives cannot just be about sporadic trainings, nor can they be treated as the "flavor of the month". We must create a learning culture, which is a long-term commitment.
Furthermore, we cannot only focus on knowledge itself but must also look at the processes behind it. We also have to look at how knowledge is created, acquired, refined, stored, transferred, shared, and re-used. One element of that is to provide the time and space where people can inspect and adapt, so that learning and growing is supported by work practices and daily routines.
Agile approaches have learning and development deeply embedded into their workflow. They measure, assess, reflect, redefine, and innovate. Agile employees draw inspiration from inspiring work, successful collaboration, and instant feedback. And they are not afraid to address issues proactively and to move forward – not only on an individual level, but as teams and organizations.
Organizational Development takes courage to tackle the system
Agile enterprises do not shy away from challenging the system. And as W. Edwards Deming said:
"The system that people work in and the interaction with people may account for 90 or 95 percent of performance."
Agile enterprises do not shy away from challenging the system. And as W. Edwards Deming said: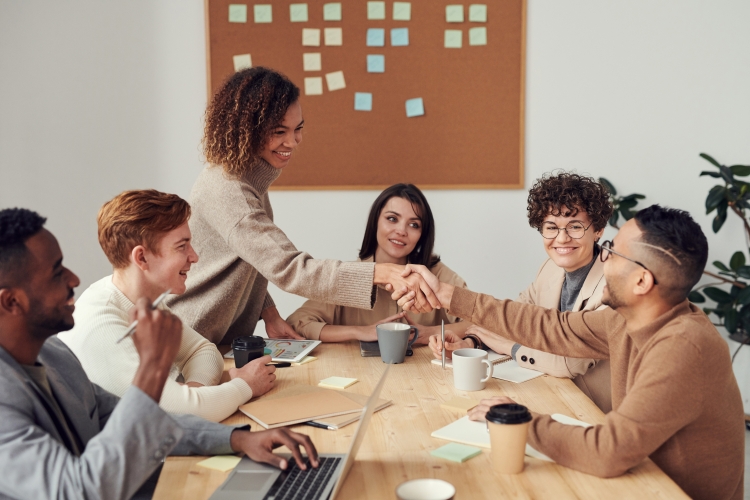 "The system that people work in and the interaction with people may account for 90 or 95 percent of performance."
Or in other words: Almost all issues with work are due to the system, not the workers.
That means that in order to grow as an organization, you need to assess and improve your system – something most companies completely overlook. (Unless you count the recurring restructuring and transformation projects as continuous organizational learning and development).
From an HR perspective, we must focus on creating an inspiring, engaging work environment with great conditions, so that people are enthusiastic about what they do and their experience is enhanced. If they grow on a personal and professional level, we will grow on an enterprise level as well. It is up to us to create a stimulating learning culture that ignites personal and corporate development.
Are you ready to boost growth?
About Fabiola Eyholzer
Fabiola Eyholzer (SPC, CSPO) is an expert and thought leader in Lean | Agile People Operations – the contemporary HR approach for the age of disruption. Fabiola is a seasoned Management Consultant and key players in various industries seek her expertise in Business Agility, Human Resources, Compensation & Performance Management, Operations & Processes, and Strategy.