Dear Reader
One thing is for sure: the accelerating force of technology is irreversible and unstoppable. But digitalization is far more than bringing business transactions and services onto new IT platforms. It has far-reaching consequences on all facets of the organization. And how well you manage to address those challenges will decide if your business survives or not.
In the age of disruption, organizations can no longer operate as they did. And reactive problem-solving and industrial age structures and practices are certainly not the solution. Your ability to thrive depends on your ability to adopt a digital mindset. A mindset that can translate the organizational and people challenges of a digital company.
Modern organizations are proactive and plan for the complex and the unknown. Change is not a project, but a responsiveness that is deeply embedded into the work flow. They inspire and empower people and create stimulating work environments. They support collaboration, creativeness and outside the box thinking and encourage resourcefulness and diversity.
The key asset of any digital organization are people. That means HR must break free from its traditional role as policy maker and happiness police and instead lead from the front.
For 3 years now, we have had the privilege of advising enterprises in their efforts to build stronger, more responsive and innovative businesses through an organization-wide integration of lean | agile values, principles, and practices.
We are so honored to work with so many amazing people and organizations and proudly serve the Agile HR community. Our thanks to everyone who has been on this remarkable journey with us. We look forward to facing the coming challenges together.
If you have any questions about our Agile HR approach and services, please feel free to reach out. We'd welcome the opportunity to put our experience to work for you.
Yours truly.
Fabiola Eyholzer
Chief Executive Officer
Just Leading Solutions LLC
Swiss-born Mrs. Eyholzer has an outstanding career in management consulting with extensive experience in Enterprise Agility, Human Resources, Compensation & Performance Management, Operations & Processes, and Strategy. Mrs. Eyholzer joined JLS after an engagement as Executive Advisor for agile enterprises. Prior to this she was Partner at one of the leading European management consultancies. She is an expert and thought leader in Lean | Agile People Operations and the trusted advisor for key players across various industries. She graduated with majors in Finance & Controlling, holds an MBA degree in international business, and is a certified SPC and CSPO. Mrs. Eyholzer shares our passion for lean | agile people solutions.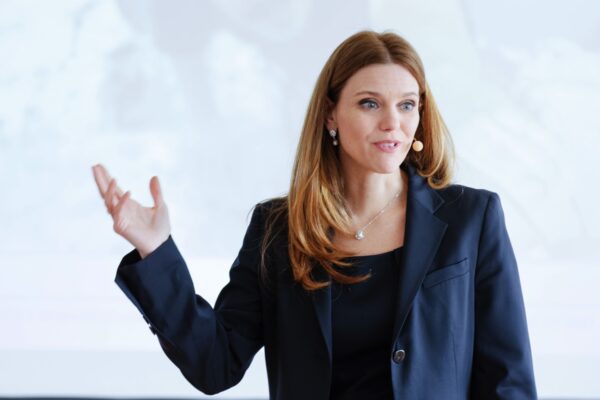 About JLS - Agile HR Transformation Consulting
JLS is a woman-owned, global transformation consultancy with a passion for building more robust, responsive, and innovative businesses through Agile HR.