Performance Management Session @ Omaha Agile Development
Version
Download

53

File Size

1.77 MB

File Count

1

Create Date

June 14, 2017

Last Updated

April 28, 2023
Performance Management Session @ Omaha Agile Development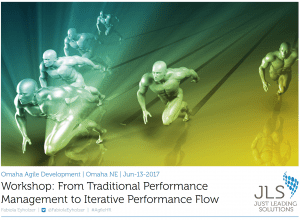 Traditional Performance Management systems are in deep crises. Their industrial era approach is unable to meet the demands and thinking of 21st century people and organizations.
Join this interactive workshop to discuss how Lean | Agile enterprises can push the reset button and move from an administrative Performance Management process to a successful iterative performance flow.
Performance Management Session | Omaha NE, Jun-13-2017
About Fabiola Eyholzer
Fabiola Eyholzer (SPC, CSPO) is an expert and thought leader in Lean | Agile People Operations – the contemporary HR approach for the age of disruption. Fabiola is a seasoned Management Consultant and key players in various industries seek her expertise in Business Agility, Human Resources, Compensation & Performance Management, Operations & Processes, and Strategy.